Limited Tickets Available
Tickets are limited for today, September 24th.
Advance ticket purchase is highly recommended.
Plan Your Visit
Planning a full day out or looking for new things to do in DC? Here are some local attractions, hotel accommodations, cafes, shops, and restaurants in DC's historic Southwest neighborhood that can you can enjoy before or after a visit to SPY.
Food and Drink
Need a quick drink or snack? Our Spy Museum Store has chilled drinks and sweet treats for sale.
L'Enfant Plaza Food Court is a two-minute walk from SPY (entrance is directly behind the Museum) and is a perfect place for grabbing coffee or a quick bite. Public restrooms are available, along with direct access to the L'Enfant Plaza metro station. Please note, some food outlets are closed on Sundays and in the evenings.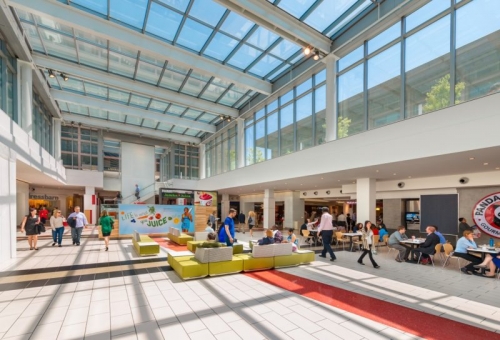 If you'd like to enjoy your food outdoors, there is outdoor seating directly behind the Museum and flanking both sides of the building.
For a sit-down lunch or dinner, there is a wide range of options nearby the Museum.
District Wharf is an eight-minute walk from the museum and offers a variety of bars and specialty restaurants, plus beautiful views of the waterfront. You can also take advantage of the free Southwest Shuttle which picks up outside the museum and stops at the wharf. Check out this list of restaurants and cafes available at District Wharf.
Where to Stay / Hotels
Take advantage of the unique hotel accommodations, all within walking or driving distance of the Museum. From themed rooms with historic ties like the Watergate Hotel or the Mayflower Hotel, to family-friendly properties including Hilton National Mall and Hyatt Regency Washington, our hotel partners offer a wide array of amenities with SPY-friendly perks. Contact the hotel directly for more information.
Things To Do
After you've completed your Undercover Mission at the Spy Museum, why not extend your day? There are plenty of sights and things to do in the local Southwest DC area.
Outdoor Activities
Take a stroll along the wharf, or try your hand at kayaking and paddleboarding. Rent a bike from the nearby Capital Bikeshare station and explore your surroundings. You can also grab a water taxi at The Wharf and head to Georgetown or National Harbor.
Local Attractions and Shopping
Opened in 1805, The Municipal Fish Market is the oldest continuously operating open-air fish market in the United States. It's a great spot to pick up some local produce or take some unique photos.
If you're still in the mood for shopping, District Wharf is home to shops selling clothing, jewelry, and locally-made gifts.
Extra Fun for Kids
Bring your junior agents down to the Wharf to continue their mission! They can enjoy waterfront swings on Recreation Pier, or run through the splashpad on 7th Street Park. Craving something sweet? Grab an ice-cream from the Southwest Soda Pop Shop or Ben and Jerry's at District Wharf, or create the perfect s'more at Camp Wharf.
Spy Museum Store
The Spy Museum Store has all the spy you can buy! No museum ticket is needed to access the store. Our modern and spacious shop stocks a wide selection of spy gear, gadgets, games, toys, books, clothing, and gifts. (P.S. – Don't forget to snap a photo at the SPY sculpture on the way out!)