Bringing young children 9 and under?
Although the Museum's primary audience is ages 9 and older, we know that younger children can have a really fun and fulfilling experience at the Museum with a bit of support.
Here are some tips and tricks:
1. Briefing Center
5th Floor
When you arrive at the Briefing Center from the Lobby you will be given the option to participate in Undercover Mission. We highly recommend that an adult do the mission with the child if they are 7 and under. The adult and the child can work together to collect intelligence and test their skills. At Check-In, register only one badge for the adult/young child pair.
At the end of your visit in the Debriefing Center, you will review your performance and mission. When you get home, you can log onto your full debrief on the website or from the e-mail link. Here, you will get your disguise photo and all your scores. Make sure to take your badge home with you!
2. Spies and Spymasters
5th Floor
Depending on the day of your visit, you may experience some crowds in this first gallery, especially at the digital interactive kiosks along the back wall. We suggest using some of the other interactives in this gallery that don't get as crowded:
Dress for Success: Mix and match Dmitri Bystrolyotov's (a Russian spy) cover identities and dress him for his various missions.
Foraging for Facts: Pull up the food in this foraging basket to learn more about James Lafayette. (Adult will need to help with lifting up the food and reading and understanding the labels.)
Lafayette's Revolutionary Recon: Peer into a British officer's trunk, then see what you can remember.
Be Walsingham/Be Queen Elizabeth: Stick your face in a cut-out painting and become a "talking portrait." (Great photo op!)
Walsingham's Secret Code: Use a key to decipher a couple of coded words in a letter from Sir Francis Walsingham.
3. Tools of the Trade
Check out the "Covert Critters" case and see the various animals that were used for top secret missions!
Undercover Mission digital Interactives* in this gallery include:
Gadget Lab: Design the right tool for your mission by picking the appropriate technology and how to hide it—then use your gadget to collect intel.
* Little fingers may have trouble using the touchscreens so be ready to assist.
4. Looking, Listening, Sensing
5th Floor
What's Shakin' Chinese Drum: Press the buttons to guess which level of shaking indicates that the enemy is close.
Problem Solving Under Pressure: Move the pilot higher in the air and see how his outfit changes as the air pressure decreases.
5. Codes
5th Floor
Along the back wall of this gallery you can crack coded messages using a:
Cardano Grille
Skytale
Super-Sized Cipher Wheel
Secret Writing Desk: Can you find all the hidden messages by using red and blue viewers, a UV flashlight and a mirror?
Codemaker: YOU! Make your own coded message with magnets. Take turns decoding each other's message.
6. Analysis
5th Floor
At the entrance to this gallery, peer inside the four peek holes/portals. They are the perfect height for young kids! What do you see? (Hint: They all have to do with predicting the future!)
Answers (left to right): tarot cards, tea leaves, animal bones, and Zoltar the fortune teller.
Mind Games—Pay Attention: Watch the video and see how well you can pay attention—you never know, there might be a surprise or two thrown in there!
Ops Zone: Assess a scene for surveillance threats (cameras, etc.) and then unload a dead drop for a secret message.
7. Covert Action
5th Floor
Operation Tripwire: Infiltrate enemy territory. Can you stay on track and avoid enemy traps?
The Trojan Horse Video: Watch this animated short film to learn about the deception operation from ancient Troy.
Can You Spot the Deception? Look into the peek holes in the Genghis Khan mural and see how the Mongols tricked their enemies. (Adult to help with label reading and understanding)
Disguise Workshop: Can you transform your appearance to blend into your mission environment? Your disguise photo will be added to your profile and available to you at the end of your visit. (Shhh...look for your disguise photo to appear again on the floor below when you encounter a dog!)
8. Intel Review
4th Floor
Intel Review: This is where you find out how you're doing on your mission, and you'll get one last piece of intel to look for on this floor.
9. Cyber Infinity Room
4th Floor
While kids won't understand the content of this video, the colors and shapes that appear on the mirrored walls and floor might intrigue them! *WARNING: This exhibit has sudden light changes and can cause motion-sickness.
10. License to Thrill
4th Floor
Atomic Countdown: Be like James Bond and neutralize a bomb by lifting its core out without touching the sides. Think steady-hand like the game Operation. (Might be too heavy for a small child but adult can assist with the lifting)
11. Berlin: City of Spies
4th Floor
Sneak into Berlin: Can you get into East Berlin without getting caught? A photo will be secretly taken of you and will be displayed in the Stasi office suspect board (also captured in the Undercover Mission profile).

Checkpoint Charlie: Meet a Stasi guard and his dog. Don't be afraid of the dog…he'll bark but he won't bite…we promise! Hint: look for your disguise photo here. (For children afraid of dogs, sneak in and out of Berlin through the cut out in the wall and you'll be able to avoid direct contact with this screen.)

Trabi-Hide: Can you fit? Try to squeeze into and hide inside the engine of the East German tiny Trabant car. Feel what it might have been like to escape this way.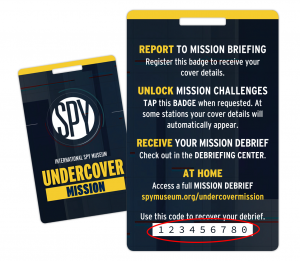 12. Debriefing Center
Check out at one of the stations to find out the end of your Undercover Mission and your top two skills. At home, you can use the number on the back of your badge to access your full mission profile including your disguise and sneak in photo.
Spy Museum Exhibits: