Limited Tickets Available
Tickets are limited for today, September 24th.
Advance ticket purchase is highly recommended.
Plan Your Visit
While male-centric action films such as the James Bond or Jason Bourne franchises dominate the espionage genre, some of the best spy films ever created feature female spies. From iconic history makers to kick-ass action heroines, cat and mouse operatives of the Cold War to the comedic darlings who make spying look fun, here's a look at our favorite female spy films to grace screens.
BEST FEMALE SPY MOVIES
SALT (2010) - When Evelyn Salt (Angelina Jolie) became a CIA officer, she swore an oath to duty, honor and country. But, when a defector accuses her of being a Russian spy, Salt's oath is put to the test. Now a fugitive, Salt must use every skill gained from years of training and experience to evade capture, but the more she tries to prove her innocence, the more guilty she seems.
RED SPARROW (2018) - Prima ballerina Dominika Egorova (Jennifer Lawrence) faces a bleak and uncertain future after she suffers an injury that ends her career. She soon turns to Sparrow School, a secret intelligence service that trains exceptional young people to use their minds and bodies as weapons. Egorova emerges as the most dangerous Sparrow after completing the sadistic training process.
ZERO DARK THIRTY (2020) - Based on a true story, Zero Dark Thirty follows the decade-long worldwide manhunt for Osama bin Laden, as the terrorist leader occupies the resources and attention of two U.S. presidential administrations. Ultimately, the work of a dedicated female analyst (Jessica Chastain) that proves instrumental in finally locating bin Laden. In May 2011, Navy SEALs launch a nighttime strike, killing bin Laden in his compound in Abbottabad, Pakistan. Uncover the real faces behind the film, in the Museum's Making Sense of Secrets Gallery.
NO TIME TO DIE (2021) - Daniel Craig returns one last time as James Bond. His peace is short-lived when his old friend Felix Leiter (Jeffrey Wright) from the CIA turns up asking for help. The mission to rescue a kidnapped scientist has Bond running up against his old nemesis Blofeld (Christoph Waltz) and a new 007 Nomi, played by Latasha Lynch. Lynch makes history as the first female 007 in the James Bond franchise's nearly 60-year tenure.
ATOMIC BLOND (2017) - Sensual and savage, Lorraine Broughton (Charlize Theron) is the most elite spy in MI6, an agent who's willing to use all of her lethal skills to stay alive during an impossible mission. With the Berlin Wall about to fall, she travels into the heart of the city to retrieve a priceless dossier and take down a ruthless espionage ring.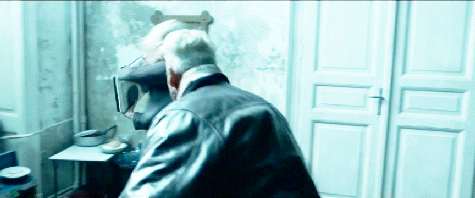 MATA HARI (1931) - In Paris during World War II, Dutch exotic dancer Mata Hari (Greta Garbo) secretly moonlights as a German spy. Using her feminine wiles to seduce French and Russian agents into bed so she can uncover top-secret information, Mata Hari is a primary target of the French Spy Bureau's Dubois (C. Henry Gordon). When Mata Hari falls in love with one of her intended targets, the dashing Lt. Rosanoff (Ramon Novarro), Dubois uses her former accomplice (Lionel Barrymore) to bring her down.
NOTORIOUS (1946) - In order to help bring Nazis to justice, U.S. government agent T.R. Devlin (Cary Grant) recruits Alicia Huberman (Ingrid Bergman), the American daughter of a convicted German war criminal, as a spy. As they begin to fall for one another, Alicia is instructed to win the affections of Alexander Sebastian (Claude Rains), a Nazi hiding out in Brazil. When Sebastian becomes serious about his relationship with Alicia, the stakes get higher, and Devlin must watch her slip further undercover.
TOMORROW NEVER DIES (1997) - Media mogul Elliot Carver (Jonathan Pryce) wants his news empire to reach every country on the globe, but the Chinese government will not allow him to broadcast there. Carver doesn't take no for an answer and plans to use his media empire to fuel flames of war between the Western world and China. Thankfully, James Bond (Pierce Brosnan) is on to the insane news tycoon and travels to China to stop him with the help of Chinese secret agent Wai Lin (Michelle Yeoh).
LA FEMME NIKITA (2012) - Anne Parillaud stars as the title character in this cult classic! She plays a teen criminal who is convicted and sentenced to life imprisonment for murdering policemen during an armed pharmacy robbery. Her government handlers fake her death and recruit her as a professional assassin. After intense training, she starts a career as a killer, where she struggles to balance her work with her personal life. She shows talent at this and her career progresses until a mission in an embassy goes awry.
THE 355 (2022) - CIA agent Mason "Mace" Brown joins forces with a rival German agent, a cutting-edge computer specialist and a Colombian psychologist when a top-secret weapon falls into the hands of a group of mercenaries. Together, the four women (Jessica Chastain, Penélope Cruz, Fan Bingbing, Diane Kruger, and Lupita Nyong'o) now international spies, must work together to stop a terrorist organization embark on a breakneck mission to save the world while staying one step ahead of a mysterious figure who's tracking their every move.
SPY (2015) - Get ready for belly laughs in this action-comedy. CIA analyst Susan Cooper (Melissa McCarthy) has spent her entire career as a desk jockey, working hand-in-hand with dashing agent Bradley Fine (Jude Law). Using high-tech equipment and a hidden earpiece, Susan is the guardian angel who helps Bradley avoid danger. However, when Bradley is assassinated by Bulgarian arms dealer Rayna Boyanov (Rose Byrne), Susan wrangles her way into her first undercover assignment to help capture Boyanov and avenge Bradley.
The Secret History of Female Spies