Weekly Intel Update
Be the first to learn the latest intelligence news and get ready for the week ahead! *(week ending March 2)
Every Monday, SPY will bring you a Weekly Intelligence Update highlighting the previous week's worldwide news events from espionage incidents to national security and general intelligence. Note: Linking to these stories does not constitute an endorsement from the International Spy Museum. As the Museum historian, I found many of these news stories were interesting (and that you might too).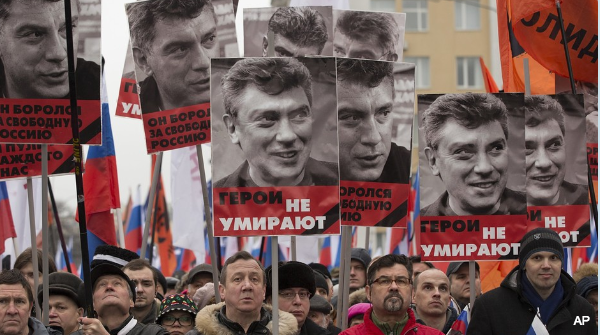 TOP NEWS
The most important stories from the last week, all in one place.

Russian opposition leader Boris Nemtsov shot dead in Moscow.
The Hill: Landmark Internet Rules Approved
The Daily Beast: Spy: CIA Kept Me From My Soulmate
New York Times: US and British Agencies May Have Tried to Get SIM Encryption Codes, Gemalto Says
Office of the Director of National Intelligence: Worldwide Threat Assessment of the US Intelligence Community
Washington Post: 'Jihadi John': Islamic State Killer is Identified as Londoner Mohammed Emwazi
Defense One: 'Jihadi John' and the Future of the Biometrics Terror Hunt
Washington Post: CIA Looks to Expand Its Cyber Espionage Capabilities
The Guardian: CIA Attempted To Contact Hamas Despite Official US Ban, Spy Cables Reveal
BBC: Argentina Congress Votes to Dissolve Intelligence Agency
The Clarion Project: Islamic State Destroys Ancient Artifacts and Burns 8,000 Books
Reuters: Kremlin Saw Plan to Annex Crimea before Yanukovich Fell
Washington Post: Jury In 'American Sniper' Trial Finds Eddie Ray Routh Guilty Of Killing Navy SEAL Chris Kyle And Chad Littlefield
TERRORISM/COUNTERTERRORISM
Unfortunately, it's doubtful we will go a week without stories about terrorism.
The Intercept: Exclusive: TSA Issues Secret Warning On 'Catastrophic' Threat To Aviation
The White House: Statement by NSC Spokesperson Bernadette Meehan on Recent ISIL Attacks
The Atlantic: What ISIS Really Wants
Reuters: US Military Trains African Armies Ahead Of Boko Haram Campaign
Radio Free Europe: American Group Used 'Dark Web,' Bitcoin to Raise Money for IS, Says Researcher
Newsweek: Western Intelligence Services Overwhelmed by Jihadist Propaganda
Defense One: Clapper Says People in Mosul May Be Getting Sick of ISIS
Reuters: British Spies in US Terror Trial Must Be Faceless In Sketches
Miami Herald: Pentagon Scraps Judges' Guantánamo Move Order; 9/11 Case Unfrozen
BBC: Abid Naseer New York Trial Shown Bin Laden Documents
AP: 2 Californians Get 25 Years in Federal Prison for Terror Try
Center for Strategic and International Studies: Can We Learn Anything from Terrorist Propaganda Videos?
Vice News: Spain Claims to Have Busted Another Islamic State Recruitment Cell
NUKES
News about nuclear weapons, and the intelligence and national security ramifications they present. I will also include news about chemical, radiological, and biological weapons here as well (all the WMDs in one convenient location).


War is Boring: America Readies Its New 'Smart' Nuke
Business Insider: North Korea's Last Nuclear Test Had a Fireball the Width of 4 Manhattan Blocks
The Guardian: Leaked Cables Show Netanyahu's Iran Bomb Claim Contradicted by Mossad
Reuters: Get Over It: There's No Better Deal Coming on Iran's Nuclear Program
Politico: Let's Make the Deal with Iran
Washington Post: A Compelling Argument on Iran
Union of Concerned Scientists: Obama's Nuclear Legacy #4: Give Nuclear Weapons a Sole Purpose
Arms Control Wonk: Discriminate Deterrence
Arms Control Wonk: Nuclear Postures
Daily Star (Lebanon): North Korea Could Have 100 Nuclear Weapons by 2020: US Researchers
SCIENCE AND TECHNOLOGY
Anything new in spy and defense science and technology.
Federal Times: CIA to Launch Private App Store Next Month
Wired: Google's AI Is Now Smart Enough to Play Atari Like the Pros
Defense News: India, Israel to Build Missile Defense System
Popular Science: Weapons for Future Wars on Sale at Abu Dhabi Arms Show
Reuters: U.N. Panel Urges Increased Use of Drones in Peacekeeping Missions
CNN: The Future of War Will Be Robotic
Defense One: The World Needs New Rules for Armed Drones
Popular Science: Your Guide To The 3-D Printed Universe


GOVERNMENT TRANSPARENCY/SECRECY
Stories about the NSA, government transparency, and individual rights.
McClatchy: Rejection of NSA Whistleblower's Retaliation Claim Draws Criticism
US News and World Report: NSA Chief Mute on Spyware, Critical on Snowden
Slate: The Snowdenites Are Winning
Vice News: Official Reports on the Damage Caused by Edward Snowden's Leaks Are Totally Redacted
Overt Action: What Takes CIA Longer: Designing & Deploying a Spyplane or Uploading 12 Million Declassified Documents?
The Intercept: Canadian Spies Collect Domestic Emails in Secret Security Sweep
Al Jazeera: Spy Cables: Greenpeace Among Intelligence Targets
The Daily Beast: Army Spied on Hero over Amazon Review
ACLU: ACLU-Obtained Documents Reveal Breadth of Secretive Stingray Use in Florida
The Guardian: Held For Hours at Secret Chicago 'Black Site': 'You're a Hostage. It's Kidnapping'
The Intercept: Long March Of The Yellow Jackets: How a One-Time Terrorist Group Prevailed On Capitol Hill
CYBER
The world of cyberwar and cyber-terrorism is the new normal.
The Daily Beast: Top Spy: Small Hacks Are Bigger Threat Than 'Cyber Armageddon'
US Department of State: $3 Million Reward for Information on Evgeniy Mikhailovich Bogachev
Defense One: Spy Research Agency Is Building a Machine to Predict Cyber Attacks
Huffington Post: Anthem Hack Could Have Hit At Least 8.8 Million Non-Customers
Defense One: How the Military Will Fight ISIS on the Dark Web
Department of Homeland Security: Protect Myself from Cyber Attacks
Slate: Encryption 101
Huffington Post: We Need a Manhattan Project for Cyber Security
RUSSIA

Our old nemesis is back with a vengeance.
NPR: Ukraine Starts Withdrawing Heavy Weapons from Front Lines
Washington Post: US Military Vehicles Paraded 300 Yards from the Russian Border
Defense News: US, Russian Troops Show off Hardware Just Miles Apart
The Telegraph (UK): British Forces Head for Ukraine as David Cameron Issues Warning To Vladimir Putin
NPR: France Warns Russia and Its Allies Not To Advance on Ukrainian Port City
Deutsche Welle: German Tank Battalion to Be Activated Amid Russia Crisis
Brookings: How to Contain Russia without a New Cold War
CNN: Ukraine Recruits Internet Army to Fight Russian Trolls
BBC: Russia's Bear: The Old-Fashioned Plane Still Thriving
The National Interest: This Is What Putin Really Wants
Reuters: Hybrid War: The Real Reason Fighting Stopped In Ukraine – For Now
LATIN AMERICA
Our neighbors to the south, both allies and adversaries.
Cuba Confidential: US Hopes to Reopen Cuba Embassy Ahead of Americas Summit
Reuters: US, Cuba Meet For Second Round of Normalization Talks
The National Interest: Venezuela's President Is Out of Control
CHINA/EAST ASIA/THE PACIFIC

America's "Asia pivot" has brought it into direct conflict with the rising powers of Asia.
Reuters: US 'Deeply Concerned' By North Korean Nuclear Advances
Business Insider: China Has a Growing Terrorism Problem and No One Is Talking About It
Washington Post: Could Al Jazeera's Leaked British Spy Files Get a North Korean Killed?
Business Insider: India Fast-Tracking Development of Its New Aircraft Carrier In Order To Compete With China
Stars and Stripes: Fearing Ebola, North Korea Bars Foreigners from Pyongyang Marathon
MIDDLE EAST/SOUTHWEST ASIA
Because all the news from this hotly contested part of the world is not just terrorism news.
The National Interest: 4 Iranian Threats That Terrorize Saudi Arabia
NBC News: Afghanistan's Abdullah Abdullah Says Taliban Peace Talks Will Be Soon
Reuters: Yemen Ex-President Amassed Up To $60 Billion, Colluded With Rebels: U.N. Experts
INTELLIGENCE HISTORY
News articles that highlight the secret history of history.
Business Insider: This Letter from George Washington Marks the Birth of American Espionage
National Cryptologic Museum Foundation: "Code Breakers: The Invisible Cryptologists" - An NBC4 Series
Bulletin of the Atomic Scientists: The Weight of a Butterfly
Wilson Center: Stasi Note on Meeting Between Minister Mielke And KGB Deputy Chairman Kryuchkov
The Point: The Soviet Science System
San Jose Mercury News: Ralph Nobles Dies; Manhattan Project Physicist Saved San Francisco Bay Wetlands
GENERAL INTEL

All the news that doesn't fit.
The Guardian: South Africa Monitored Iranian Agents under US Pressure, Spy Cables Show
The Guardian: Spy Cables: MI6 Intervened To Halt South African Firm's Deal with Iranian Client
The Guardian: South Africa Scrambles to Deal with Fallout from Leaked Spy Cables
Al Jazeera: The Spy Cables: A Glimpse Into the World of Espionage
The Guardian: Africa Is New 'El Dorado of Espionage', Leaked Intelligence Files Reveal
The Guardian: The Unglamorous Life of a Modern Spy in the New 'El Dorado of Espionage'
Bloomberg: Sex, Lies and Espionage: Did a Professor Spy for the FBI?
Defense One: What Is the Future of War?