Weekly Intel Update
Be the first to learn the latest intelligence news and get ready for the week ahead! *(week ending Jan 25)
Every Monday, SPY will bring you a Weekly Intelligence Update highlighting the previous week's worldwide news events from espionage incidents to national security and general intelligence. Note: Linking to these stories does not constitute an endorsement from the International Spy Museum. As the Museum historian, I found many of these news stories were interesting (and that you might too).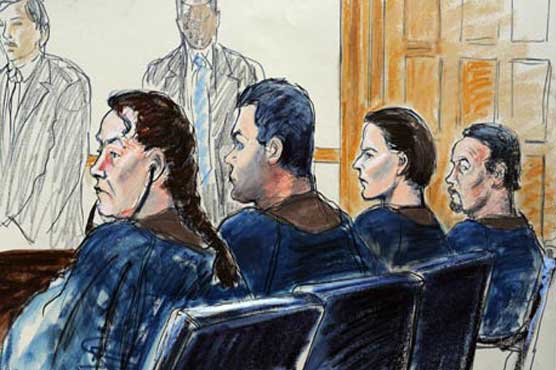 TOP NEWS
Department of Justice: Attorney General Holder Announces Charges Against Russian Spy Ring in New York City
New York Times: 3 Charged With Working as Agents for Russia in New York
Washington Post: Former CIA officer convicted in leak case
Popular Science: Scientists Adjust Doomsday Clock Over Nuclear Threats and Climate Change
Bulletin of the Atomic Scientists: It Is 3 Minutes to Midnight
The Daily Beast: CIA's Top Spy Steps Down
Business Insider: Russia Sent a Spy Ship to Havana While US Diplomats Are Visiting
The National Interest: Russia's Nuclear Forces Conduct Surprise Drill
Washington Post: Yemen Chaos Threatens U.S. Counterterror Efforts, Including Drone Program
Defense News: US Trainers to Deploy to Ukraine
Reuters: Nearly Every U.S. Arms Program Found Vulnerable To Cyber Attacks
The Miami Herald: Navy Relieves Guantánamo Base Commander amid Death Probe
Huffington Post: GOP Plans to Give Explosive Document Back to CIA
Politico: Richard Burr Takes CIA Report Fight to Senate Referee
Reuters: Hoax Caller Impersonating Spy Chief Put Through To UK PM Cameron
TERRORISM/COUNTERTERRORISM
Unfortunately, it's doubtful we will go a week without stories about terrorism.
Atlantic Council: 'Heightened Risk' of Terrorist Attack in West, Top Pentagon Official Says
CBS News: 2 al Qaeda Members Charged in US for Conspiracy to Kill Americans
The Guardian: British 'Secret Agent Men' To Wear Wigs and Makeup at Al-Qaida Bomb Plot Trial
Buzzfeed: "No One Is Ready" For the New Breed of Terror
The Hill: Hagel: Yemen unrest could affect transfers from Guantánamo
Time: America's Counterterrorism Policy Is Failing
ABC News: American Who Flipped on Al Qaeda Reemerges in New Terror Case
Politico: City Of Paris to Sue Fox News


RUSSIA
Our old nemesis is back with a vengeance.
PBS Frontline: The Many Faces of Vladimir Putin
Jane's: Russia To Build More Arctic Airfields
War is Boring: Why Ukrainian Troops Are Calling the Donetsk Airport Siege 'Stalingrad'
Vice News: Drone Footage Shows Ukraine's Donetsk Airport in Ruins After Months of Fighting
Business Insider: Top Gear Russia Magazine Accidentally Published an Image of a Classified Submarine
The XX Committee: Ukraine and the Lessons of Georgia
War is Boring: No, Russia Isn't a Strategic Threat in Latin America
Vice News: Russian Official Resigns Amid Calls to Censor Films That Threaten 'National Unity'
NUKES
News about nuclear weapons, and the intelligence and national security ramifications they present. I will also include news about chemical, radiological, and biological weapons here as well (all the WMDs in one convenient location).
Bulletin of the Atomic Scientists: Three Minutes and Counting
Boston Globe: How a Nuclear Near-Miss In '95 Would Be a Disaster Today
Defense One: Can Ash Carter Tame the Nuclear Weapons Budget?
Federation of American Scientists: The Nuclear Weapons "Procurement Holiday"
Bulletin of the Atomic Scientists: Big Banks and Their Game of Risk
The Diplomat: Dual-Use Traders: The Real WMD Threat in Southeast Asia?
The Guardian: When You Wish Upon a Star: Nuclear Fusion and the Promise of a Brighter Tomorrow
Bulletin of the Atomic Scientists: Missileers: Seeking Meaningful Employment
Popular Science: Why the Ebola Epidemic Is (So Far) Less Devastating Than Scientists Predicted
SCIENCE AND TECHNOLOGY
Anything new in spy and defense science and technology.
Breaking Defense: Transparent Sea: The Unstealthy Future Of Submarines
Center for Strategic and Budgetary Assessments: The Emerging Era in Undersea Warfare
The Guardian: Pentagon Says Air Force's 'Expanding Drone Fleet' Is Unjustified and Wasteful
Defense Update: 'Atlas Unplugged' Humanoid Like Robot to Roam Free (Of Cables) at DARPA Robotic Challenge
Popular Science: Should We Put a Drone on Mars?


GOVERNMENT TRANSPARENCY/SECRECY
Stories about the NSA, government transparency, and individual rights.
The New Yorker: Who Can Control N.S.A. Surveillance?
Christian Science Monitor: In Post-Snowden Era, NSA Maintains Surprisingly Favorable Image
Politico: CIA Leak Trial Now in Jury's Hands
CNET: Police Now 'See' Through Walls and Know If You're Home
The Hill: Snowden: French Spying Didn't Stop Terror Attacks
The Verge: A Spy In The Machine: How a Brutal Government Used Cutting-Edge Spyware to Hijack One Activist's Life
Bloomberg: Microsoft Gave Data on Charlie Hebdo Probe to FBI in 45 Minutes
International Business Times: Edward Snowden Prefers Simple Phone to iPhone Due to Snooping Concerns
CYBER
The world of cyberwar and cyber-terrorism is the new normal.
National Security Agency: Defensive Best Practices for Destructive Malware
The Information Security Arm of GCHQ (UK): Common Cyber Attacks: Reducing the Impact
Brookings: Will Sharing Cyberthreat Information Help Defend the United States?
The Daily Beast: Our South Korean Allies Also Hack the U.S.—and We Don't Seem to Care
Federal News Radio: DoD Intel Chief Vickers Gives Cyber Premier Priority Status
Defense Systems: Users Becoming Hackers' Favorite Path into Networks, Survey Finds
Reuters: Pentagon Says Classified Data on U.S. F-35 Jet Fighter Program Remains Secure
RUSSIA

Our old nemesis is back with a vengeance.
NPR: Ukraine Rebel Leader Claims New Attack on Mariupol
LA Times: Ukraine Troops Retreat after Losing Donetsk Airport to Separatists
Reuters: NATO Calls On Russia to Pull Troops from Ukraine
The Moscow Times: Russia Dares Ukraine to Prove Alleged Presence of Regular Troops
The Atlantic: How to Survive a Russian Invasion
The Jamestown Foundation: Putin Sets Military Trap for Poroshenko
Bloomberg: Putin Said to Shrink Inner Circle as Hawks Beat Billionaires
LATIN AMERICA
Our neighbors to the south, both allies and adversaries.
Cuba Confidential: Havana's Spies Seen as Big Winner in New US-Cuban Relations
New York Times: U.S. Outpost in Cuba to Step Out of the Shadows
BBC: How Will Cuba Get Off the State-Sponsored Terrorism List?
Reuters: Cubans Look Fondly To U.S. As Talks To Resume Relations Start
The Guardian: Headed to Cuba? MasterCard Removes Block on US-Issued Cards
CHINA/EAST ASIA/THE PACIFIC
America's "Asia pivot" has brought it into direct conflict with the rising powers of Asia.
Breaking Defense: US Army Communications in Pacific Stretched, Tested
Popular Science: China Gets Three Warships in One Day
The National Interest: The Real Military Threat from China: Anti-Ship Cruise Missiles
Stars and Stripes: Japan's Response to Islamic State Hostage Situation Limited by Constitution
The National Interest: Run Silent, Run Australian? Why Australia Should Build Its Own Subs
MIDDLE EAST/SOUTHWEST ASIA
Because all the news from this hotly contested part of the world is not just terrorism news.
Washington Post (Op-Ed): Give Diplomacy with Iran a Chance
Bloomberg: Israeli Mossad Goes Rogue, Warns U.S. on Iran Sanctions
The National Interest: The Real U.S.-Iran Dilemma: What Happens After a Nuclear Deal?
Reuters: Israel Didn't Target Iranian General in Strike: Source
The National Interest: Why America Will Miss Saudi King Abdullah
Reuters: Russia May Send S-300 Missile System to Iran
INTELLIGENCE HISTORY
News articles that highlight the secret history of history.
AP: British Code Breaker Alan Turing's Notebook Goes To Auction
The Globe and Mail (Canada): Spy Master John Starnes Helped Nurture Canada's Cold War Intelligence System
BBC: Staging Oppenheimer's Nuclear Story
Central Intelligence Agency: Cloak and Dagger: The Unexpected Beginnings of CIA
Aviation Week: The Case of the Missing F-117 Parts
Military Times: WWII 'Devil's Brigade' To Receive Medal
Stars and Stripes: WWII Vet Who Escaped From Bataan Death March Finally Gets His Purple Heart
GENERAL INTEL

All the news that doesn't fit.
Washington Post: Ex-Spies Infiltrate Hollywood as Espionage TV Shows and Movies Multiply
US Department of Defense: Marine Corps Officer Takes Defense Intelligence Agency Reins
Popular Science: Can Intelligence Analysts Predict The Future?
Washington Post: Marine Corps Realigns Its Special Operations, Sends Elite Troops to Middle East
The Daily Beast: Air Force Turns to Supersonic Mercenaries
War on the Rocks: Military Command in the 21st Century Through the Eyes of Two Generals
Fortuna's Corner: The Golden Age of Black Ops
National Geospatial-Intelligence Agency: Remarks as Prepared for Robert Cardillo Director, National Geospatial-Intelligence Agency for the Intelligence and National Security Alliance, Leadership Dinner